WSOP, one of the most recognizable poker brands in the US, was among the first online poker rooms to launch regulated online poker in the country. It is the only site to have a presence in four states and was the first to take advantage of the Multi-State Internet Gaming Agreement (MSIGA) to combine player pools between states, connecting its Nevada and New Jersey poker rooms.
In Michigan — which joined the MSIGA compact last year — and Pennsylvania, the room has segregated player pools. But that could soon change — WSOP MI might get clearance to become part of the existing NJ-NV-DE network. It would then become the first operator in the US to launch a four-state connected online poker network.
However, there is one major hurdle — its software. It runs 888's modern platform in Michigan and Pennsylvania, but outdated software is still used in Nevada and New Jersey. In November, pokerfuse explored potential reasons for this discrepancy, from regulatory and procedural problems to more speculative theories.
One possibility is that the operator is waiting to switch to another platform entirely. No party involved has spoken to pokerfuse on the record as to its plans. However, there are plenty of reasons to believe that WSOP could be preparing to make such a transition — and the obvious candidate would be GGPoker.
Special Signup Offer
100% deposit bonus up to $1000!
$50 in free play with first deposit
Top-quality software
Compete for

WSOP

bracelets & rings
Please play responsibly. If you or someone you know has a gambling problem and wants help, call 1-800
GAMBLER
.
WSOP

and GGPoker: Poker's Most Important Partnership

WSOP has a very fruitful partnership with GGPoker. The pair joined forces in April 2020, starting with an Online Circuit Series, soon followed by a bracelet series. From there, the alliance blossomed.

As PRO called it it is poker's most important partnership. It extends to the Circuit Series, multiple bracelet series, and online satellites to live events like WSOP-C Calgary, currently underway.

The strongest signal of this burgeoning union came late last year in the newly regulated market of Ontario, Canada. There, WSOP Ontario launched using GGPoker's software. The GG brand was discontinued in the province; it has gone all-in with WSOP, transitioning all existing Ontarian accounts over to the WSOP brand.

Meanwhile, WSOP has moved away from its once-airtight partnership with 888. 888 was its international partner for many years, and it has sent thousands of players to the WSOP through official online routes over many years. But today, that partnership has mostly dissolved; 888 no longer spreads official satellites for the WSOP.

There is just one area where WSOP still works with 888 — US online poker.
GGPoker's Unique Software Platform is An Attractive Proposition
Why would WSOP make the switch to GGPoker? Arguably, GGPoker has one of the best poker software platforms today, designed to attract casual players with a unique feature set. The software boasts numerous poker features and innovations not seen elsewhere.
It was also among the first poker rooms to launch the hot new Mystery Bounty format, and lots of valuable features like tournament staking, a built-in HUD, a built-in tracking tool, an AI coaching tool, and more are all part of the package.
The software is polarizing and not to everyone's liking. The network also has specific policies that serious, winning players may dislike, such as a rewards program that heavily favors losing players and a strict policy against third-party software tools. But this could be very attractive to a strong consumer brand like the WSOP.
GGPoker is One of the Most Regulated Online Poker Rooms in Europe — and the US is in its Crosshairs
GGPoker has made bold, aggressive strides from its roots in the Asian markets into the regulated markets in Europe. Over the last few years, it has launched in the UK, Netherlands, Belgium, Ukraine, Romania, Germany, and the Czech Republic.
In other jurisdictions, it has market access through local third parties. It has network partners regulated in In Latvia, Armenia, and Estonia. In Ontario, as noted, it operates exclusively under the WSOP.CA brand. It is now one of the world's most regulated online poker operators.
Making a move to the United States is a natural progression. The country is slowly but surely, opening up — there are now seven states with regulated online poker — four have signed MSIGA — and many more that could come in the next couple of years.
When the operator takes the plunge, it will be through third-party access rather than first-party launches. The regulatory process to launch igaming in every US state is arduous; a much faster path would be to partner with an existing licensed operator who provides the support and software.
And in fact, it has already taken its first steps — GG's parent company NSUS Group holds a license in Pennsylvania. Notably, this is a manufacturing license, not an operator license. This means a regulated entity in the state can use its software platform; GG itself cannot run it.
888 Still Has a Compelling Offer — And a Key Partnership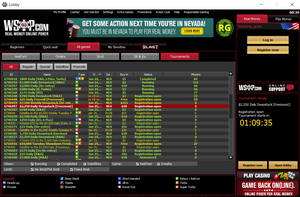 It looks certain that GGPoker is looking for a root in the United States, and with its deep ties to the WSOP, this alliance extending onto US soil makes sense on paper. But there's no guarantee it will happen, at least not in the short term.
One glaring issue: WSOP extended its multi-year partnership with 888 in early 2021, which lasts until 2026. The agreement sees 888 power WSOP Nevada, New Jersey, Pennsylvania, and Michigan for another four years.
The partnership details are unknown, and there could be cause for terminating it early. But the fact that the extension was inked after WSOP was already aligned with GG (and after GG had received its PA manufacturers license) suggests that either WSOP was not interested or considered it impractical to switch providers.
And it should also be noted that 888's new Poker 8 platform is a slick piece of software. GGPoker's software may boast a string of innovative features, but 888's new software is no slouch: Its latest generation app — Poker 8 — is a significant improvement over the classic 888 software.
It includes a sleeker and more modern look, has enhanced filtering ability, offers more responsive software clients, brings gamified features such as throwables and emojis, and supports the Mystery Bounty format. Its mobile app is also a major selling point, considered one of the best in the industry.
Special Signup Offer
100% deposit bonus up to $1000!
$50 in free play with first deposit
Top-quality software
Compete for

WSOP

bracelets & rings
Please play responsibly. If you or someone you know has a gambling problem and wants help, call 1-800
GAMBLER
.
As PokerStars and BetMGM Launch Multi-State Poker,
WSOP

Needs to Wake Up Fast

So, on the one hand, there is good reason to believe that both WSOP and GGPoker are positioning themselves for online poker together in the US, and GGPoker is looking for a way in. It has already taken the first step with a license in Pennsylvania. WSOP is sitting on old 888 software in NV and NJ and could look to shake things up with a new partner. The pair have taken the critical step of forming such a partnership in Ontario and have deep ties in all other markets.

But on the other hand, 888 and WSOP have only recently extended their US partnership. 888 has a lot of US experience, has a monopoly position in Delaware, and owns a modern software platform.

If WSOP and 888 work out their differences and upgrade the online poker experience on the US network — and then connect with Michigan — this partnership makes a lot of sense.

But that's still a big "if." The fact that WSOP New Jersey and WSOP Nevada remain on ancient poker software is a bizarre situation that frustrates its players. For the last few years, the poker giant could get away with an inferior offer — it had the only multi-state poker network, so it offered the most games and the biggest tournaments. No one else could compete.

But with Michigan now in MSIGA, that all changes. PokerStars is already live with a cross-state NJ and MI network, and early metrics suggest it has already overtaken WSOP. BetMGM is expected to do the same too.

WSOP's USP has gone, and its moat is eroding fast. Whatever the reasons for the lack of software upgrades and attention, WSOP needs to make firm decisions quickly if it wants to remain the top dog in US online poker — whether that's upgrading to 888's new Poker 8 software or taking the leap with another provider.