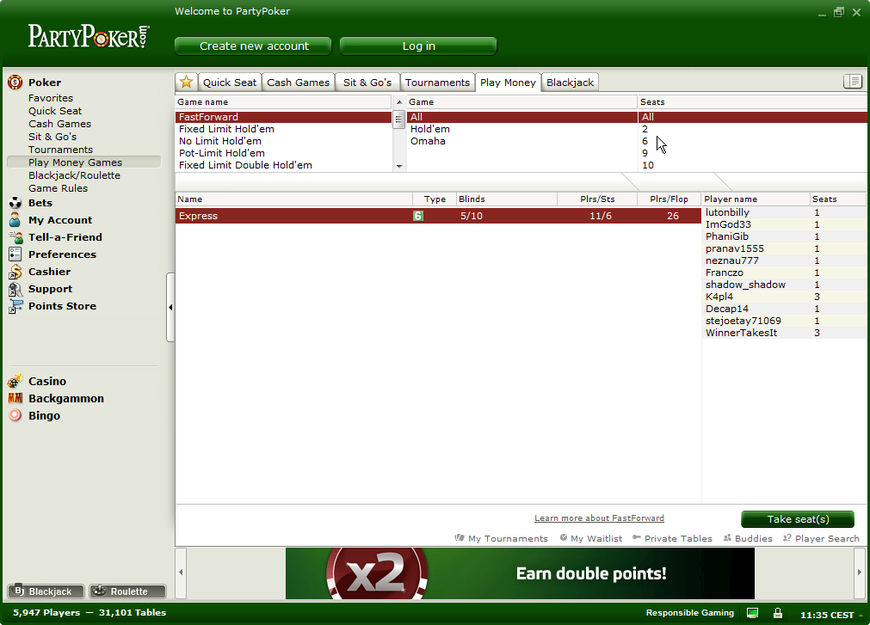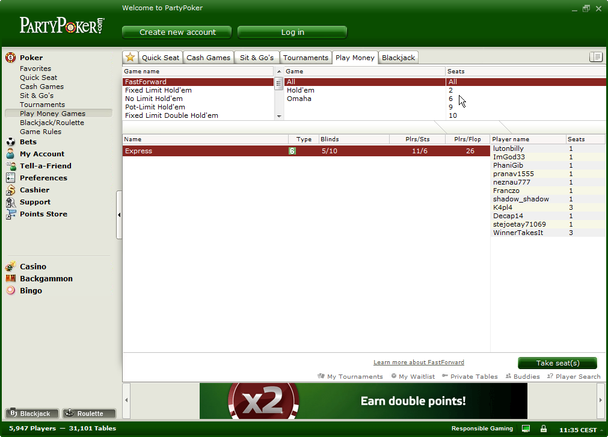 Yesterday, PartyPoker quietly updated the client to include a demo of its entry into the fast-fold poker arena with its new poker variant, dubbed "FastForward Poker." I took it for a quick test-spin in the only available pool, a play-money 6-max NL game. Party's offering sticks much to the same tried-and-tested formula first popularized by Full Tilt's Rush Poker, and resurrected with PokerStars' Zoom.
In the lobby, the player pools are listed alongside regular games. The game type lobby filter labeled as "FastForward" allows you to view just the fast-fold games. A player list of each pool is listed in the lobby, much the same as with regular tables. It always specifies the number of entries for each player. Currently players can only enter a pool up to four times, the same on Zoom poker, although Zoom allows players to play up to eight tables if entered into multiple pools.
The player experience at the table is very familiar. The button to fast-fold on the hand is labeled "Forward Fold," which results in a fairly smooth slide-transition to the next table. Things felt perhaps a touch slower than both Zoom and Rush, although there weren't enough players at the time to really test the speed.
On that note, one thing it does feature is pools that run with less than a full table—so a game will get started with less than six players in the pool. The fast-fold button obviously has little effect—you of course have to wait for everyone to finish the hand and be reseated for the next hand to begin—but the feature does help to get games started. It's a feature currently missing from Zoom, and players highlight that for a reason why higher staked games often fail to run. PokerStars has stated it is looking to allow sub-table pools to get going.
There is also the hint that PartyPoker may try fast-fold style heads-up pools. The blurb on the web page states "you can even play FastForward heads-up." Though not available for testing right now, this would certainly be an interesting innovation from Party.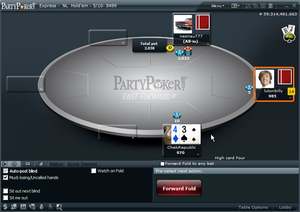 bwin.party has not been shy in stating that it feels Zoom was one of the main reasons for its poor performance in poker this year. Back in March, it stated fast-fold was in development.
There was a two year gap between Full Tilt launching Rush and its first serious competitor coming to market, but PokerStars' entrance and instant domination of the market lead to a flurry of copycats. With Microgaming's Blaze Poker and iPoker's Speed Poker, it's becoming more apparent which networks don't have a fast-fold product.
Ongame is the largest European firm to have no such product, and there has been little development on the platform with the owner's trying to offload the network. Smaller networks like Entraction and GTECH G2 have made no mention of adding such a product either. Although, expanding their offerings would be troublesome in further splitting up their limited liquidity.
Perhaps more surprising, neither of the two major US-facing networks have yet to jump into the game. Following the shake-up earlier this year with top-tier skin Lock Poker moving off Merge, buying the competing Cake Poker Network and rebranding it Revolution, both parties are likely tied up with other development: Revolution has pledged to rebuilding the client with a new HTML5-based platform, and Merge's ill-fated v6.0 upgrade has certainly have kept the developers over there occupied.