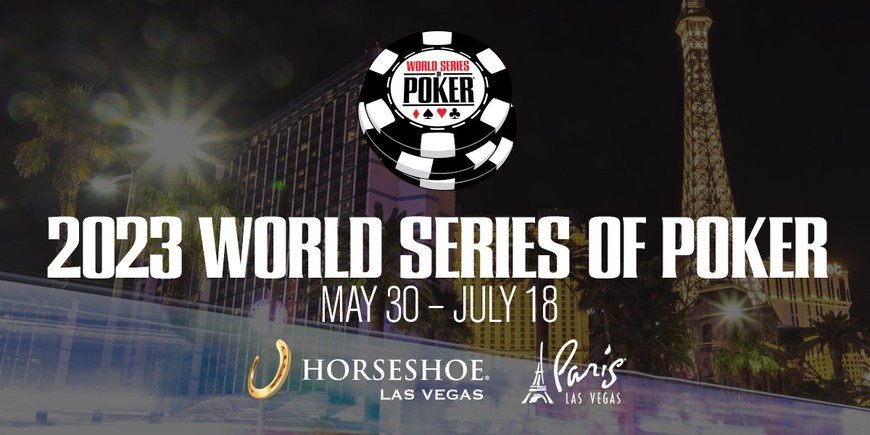 While players and the industry anxiously wait for the full WSOP 2023 schedule to be revealed, let us look at what the online bracelets would look like if WSOP US connected its MI player pool with its NJ/NV/DE network.
WSOP MI is currently a standalone network and has yet to join the operator's existing three-state shared liquidity network, consisting of Nevada, Delaware, and New Jersey.
Thus far, PokerStars US is the only operator to have combined its Michigan pool with another state (New Jersey), while BetMGM and WSOP's Michigan player pools are still operating discretely.
But by the time the WSOP live series kicks off in the summer, there is a good chance that WSOP's existing interstate online poker network will expand to four states with the addition of the MI player pool.
Last verified: November 2023
Special Signup Offer
100% deposit bonus up to $1000!
Up to $100 in free play with first deposit
Top-quality software
Compete for

WSOP

bracelets & rings
Please play responsibly. If you or someone you know has a gambling problem and wants help, call 1-800
GAMBLER
.
If that happens, Michigan online poker players will compete alongside NJ & NV, and there will be no separate bracelet series on the WSOP MI platform.
This would mean that only WSOP PA would have a standalone series (unless the state joins the multi-state online poker agreement and WSOP gets authorization to merge — which is unlikely to happen by the summer of 2023).
So, what would the WSOP 2023 domestic online bracelet series look like once MI joins the existing shared liquidity pool?
More events, bigger prize pools & increased competition, and more software features — to put it simply.
WSOP

2023 Domestic Online Bracelet Series Expectations
Likely to feature a single series involving New Jersey, Nevada, and Michigan players
14 to 16 online bracelets for the multi-state network
6 to 8 online bracelets for the standalone series on

WSOP

PA
Bracelet event every Sunday, with occasional bracelets on weekdays

PLO

events supportable on the mobile app
Multiple seven-figure prize pool events
We Will Probably See Many More Events
Indeed, once the network expands, the field sizes will increase, and the demand for more events will naturally increase as well.
WSOP

US Online Bracelet Series History
| Year | No. of Bracelets | Growth % |
| --- | --- | --- |
| 2015 | 1 | |
| 2016 | 1 | 0.00% |
| 2017 | 3 | 200.00% |
| 2018 | 4 | 33.33% |
| 2019 | 9 | 125.00% |
| 2021 | 11 | 22.22% |
| 2022 | 13 | 18.18% |
If looking at history, the number of online bracelets shot up significantly when New Jersey merged with the existing Nevada & Delaware combined player pool. The merger took place in May 2018. However, for that year, only four online bracelet events ran — up from just three seen in 2017. This is because the officials had already announced the schedule in December 2017 — when the merger had yet to take place.
However, a year later, the number of bracelet events grew by more than double. It went up from 4 to 9, based on the added interest in the bracelet events, with New Jersey's inclusion. The 2018 online bracelet series saw record-breaking attendance and prize pool records.
The question is whether the operator would announce the bracelet schedule expecting its MI pool to join NJ-NV-DE by the summer. Either way, the number of online bracelets for WSOP 2023 running alongside the live series should increase from 13. The number would depend on WSOP MI, but it is unlikely the series will feature over 16 online bracelets, even if WSOP MI gets connected with NJ/NV.
(Please note: In 2020, the WSOP live series got canceled due to COVID-19. Instead, the operator ran the entire series online, including all the bracelet events. This graph only shows the online events run alongside the live series.)
Bigger Prize Pools & Increased Competition
Naturally, the prize pools will increase with the increase in traffic. In 2022, the WSOP NJ/NV bracelet series generated a combined prize pool of $13 million, at an average of just over $1 million per event. The WSOP MI series produced $870k across eight events, at an average of $108k per event.
Based on this data, we can expect the turnout or the prize pools to increase by 10% to 15%.
Ability to Play
PLO

Events on the Mobile App

Another thing to note is that WSOP will have to upgrade its software platforms in New Jersey & Nevada to align with the Michigan platform. WSOP MI is powered by 888poker's next-generation app. The new software supports many features, including the Pot-Limit Omaha variant on the WSOP MI app.

It also supports various formats, including the ever-popular Progressive Knockouts (PKOs), Mystery Bounty — the trendy randomized bounty format, and Multi-Flight Tournaments. However, the operator will probably have to seek approvals from NJ & NV regulators before spreading these new formats.

There should be no permission needed to offer PLO events on mobile devices.

So if WSOP expands its shared liquidity network, the online bracelet series would also allow NJ & NV players to play PLO events on their mobile apps — something they have been deprived of for many years.

All these questions and more are likely to be answered very soon, as the full WSOP 2023 schedule is expected to be announced in just a few days. Stay tuned till then, then come back for our complete coverage and analysis of the schedule and what it means for WSOP in 2023.

The WSOP 2023 series runs from May 30 to July 18 in Las Vegas, Nevada.

Not signed up yet? Check for the latest WSOP US no deposit bonus and then create your account and start building that bankroll up for the upcoming online bracelet series!