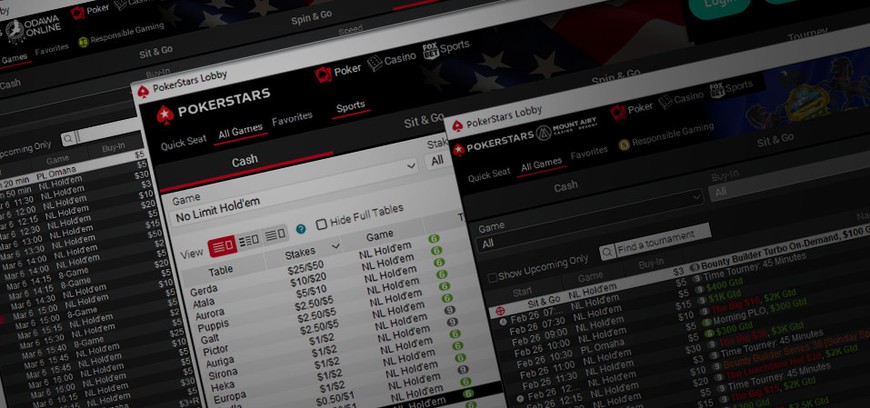 PokerStars USA is firmly on top of the country's two largest US states for online poker, putting it in a dominant position for when pooling players across state lines is possible, the latest cash game figures reveal.
PokerStars is now active in three different US markets. They are the clear leaders in two, despite facing fresh competition in both in the last few weeks. If combined with its long-standing New Jersey online poker room, it would tower over all other networks.
PokerStars PA traffic took a dip in May when a new competitor joined the market, but it has since regained its position; it remains atop the charts of US state-regulated operators. After a surge of interest on launch, PokerStars MI has naturally seen its traffic decline, but it has since found its and remains a clear second. The pair sit far above any other US site.
Across all three states in which it currently operates, the numbers show that at the end of May, a so-called PokerStars USA network—a combination of its three separate networks, as if already joined together—had more than three times the cash traffic of either of their two major competitors.
It puts them in a controlling position for when operators will be permitted to share liquidity, which is expected by the end of this year.
Data provided by GameIntel
PokerStars Continues to Control the Michigan and Pennsylvania Online Poker Markets
Most of that lead is down to their performance in the newer, larger markets. In PA, where it has been open since November 2019, it had just under 300 seats filled at the cash tables on average on May 30, a number that is on the rise after bottoming out at about 250 on May 25.
The drop followed the recent entry into the market from BetMGM PA Poker, though it did not seem to see that much of an increase from the PokerStars decrease.
Cash Game Traffic Comparison
It is in a similar position in Michigan, despite falling cash game numbers since the initial surge after their launch at the beginning of February. It is currently sitting a little below 250, more than double the average traffic of their only competitor in the market, BetMGM MI Poker.
Thanks to these giants, it sits far above the competition. Combined, the BetMGM USA rooms in Michigan, Pennsylvania, and New Jersey represent less than 200 concurrent seats filled—less than a single PokerStars MI or PA poker room.
The existing WSOP USA/888poker network in New Jersey, Nevada, and Delaware totals almost exactly the same, at just under 200 concurrent cash game seats.
PokerStars USA is almost 40% larger than both networks combined.
PokerStars USA: Poised to be the Biggest US Network
At the end of May, PokerStars USA combined for more than 600 concurrent cash game players across their three markets. At the moment, those markets are segregated into their own player pools—but that could be changing in the near future.
The state of shared liquidity in the US has been in a bit of a legal limbo for the past two years since a Trump-era Office of Legal Counsel (OLC) attempt to redefine the Wire Act. There is a mid-June deadline for the Department of Justice to file a petition, but the current administration has shown no interest in pursuing it further.
The only regulated operator in the US market with a multi-state network is New Jersey rival WSOP.com. Under license with Caesars and powered by 888poker software, WSOP.com shares liquidity between three state markets, something they established prior to the recent legal confusion.
The recent confusion has effectively prevented any new competitors in the multi-state market, but that could quickly change once the deadline passes.
While WSOP/888poker is well-positioned from a software perspective to take advantage of expanded markets when the liquidity situation changes, they will have some catch-up to do if PokerStars jumps into the multi-state game.
Currently, the WSOP.com network serves about 13.5 million people across NJ, Nevada, and Delaware, slightly larger than the 13.1 million in Pennsylvania.
Despite a lower total market size, PokerStars PA has significantly higher traffic than the WSOP.com network. Even PokerStars Michigan, with 3 million fewer people than the WSOP.com pool, has more traffic.
BetMGM is the operator trying to compete with PokerStars in each individual market. As of late March, they were competing with PokerStars in Pennsylvania and Michigan, as well as New Jersey. However, by the end of May, they lagged behind their rival in traffic in both new markets, only capping them in New Jersey.
SCOOP

Success: Further Evidence of PokerStars' Strong Position

Even without considering the tournament side of things, a network that merged the cash player pools of PokerStars' three current markets would dwarf the other operators. Their recent tournament performance just makes the case for multi-state dominance that much stronger.

Their early MICOOP and MISCOOP series in Michigan were massive, breaking guarantees in both cases.

Across the three markets, SCOOP was huge with more than $6.35 million in total prizes. More than 115,000 entries were recorded, and almost 2,300 players played one of the three Main Events.

If combined together, that would be a massive series—larger than anything modern regulated poker in the US has seen.

The inescapable conclusion is that a PokerStars USA network, even with just the existing markets, would immediately be the biggest in the business. And while it is WSOP.com that has the US experience in multi-state networks, PokerStars has international experience in similar shared pools in the segregated European markets of France and Spain.

While there are regulatory hurdles to jump that would be unique to the US market, the software needed to deploy combined pools would be similar regardless of the specific market. That means PokerStars' international experience plays directly into their hands once shared liquidity is possible in the US.

It is still unclear if, when, or how the Wire Act situation will resolve. Even once the deadline for appeal passes, the states themselves need to allow sharing of player pools. There is already some acceptance of the Multi-state iGaming Agreement (MSIGA) and all signs point to a quick expansion of multi-state operations once it is allowed.

When that happens, it seems clear PokerStars will enter the game on the top, with a lead that may well be unassailable.