$300,000 Awesome Again Stakes, A Breeder's Cup Classic "Win and You're In" Event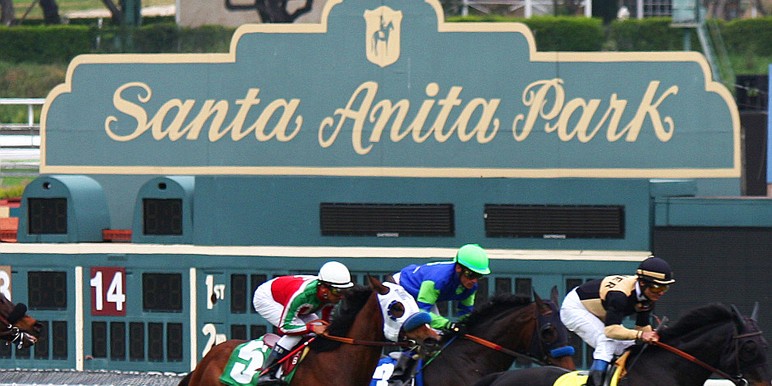 Opening weekend at Santa Anita welcomes the $300,000 Awesome Again Stakes. Run at 1-1/8 miles over the dirt course, this year's running will feature 7 starters hoping to capture the purse money as well as the "win and you're in" pass to the starting gate in the $6 million Breeder's Cup Classic.
Get a $100 sign up bonus at twinspires.com
Originally a field of 8, the Awesome Again was scratched down to 7 when Art Sherman, trainer of the un-retired Dortmund, announced on Thursday that he would be scratching the son of Big Brown from the race and will look for an easier spot for Dortmund's return. Dortmund is the defending runner up in this race. This tells me that Dortmund is not training well since the Awesome Again field, with the exception of Cupid (who is 2 for 2 in 2017), has only 1 win since January.
With the start of a new meet, I will refer back to the track bias stats from the end of the Santa Anita Spring meet and note that 5 of the last 8 dirt routes have been won in wire to wire fashion, which also implies that the inside is the place to be.
With 7 expected starters, it looks like we will have several capable horses looking to be on or near the lead and provide a snappy pace scenario. 2-1 morning line favorite Cupid will be breaking from the outside post and he will be joined up front by 3-1 m/l second choice Midnight Storm as well as the #4, Curlin Rules.
Of this group, only Midnight Storm looks he absolutely must be on the lead so I will defer to him as the ultimate pacesetter with the others trying to gain their perfect stalking position. Of the closers, I am not the biggest fan of Mubtaahij, who has chased a lot of class horses but hasn't won a race in 2 years. I also do not see enough in the speed figures from the rail horse, Win the Space, and Donworth hasn't crossed the wire first since June of 2015. This leaves me with 2 choices to beat Cupid, Curlin Rules and the #5, Breaking Lucky.
Breaking Lucky has finished 3rd to Gun Runner in his last 2, both G1 events. While the company and his placing in these races were nice, I don't see him getting there this week. My pick to take down Saturday's Awesome Again will be Curlin Rules.
Curlin Rules, trained by Jon Sadler and ridden by Flavien Prat, finished 2nd to Cupid in his last. In that race, Cupid sat in perfect position as Curlin Rules battled in 2-horse duel for the lead. Cupid moved by in the stretch but won by such a small margin that I will defer to Curlin Rules and hope for a better trip today.
Get a $100 sign up bonus at twinspires.com
The bottom line is, Curlin Rules for the win, and hope we get somewhere near the morning line of 6-1.