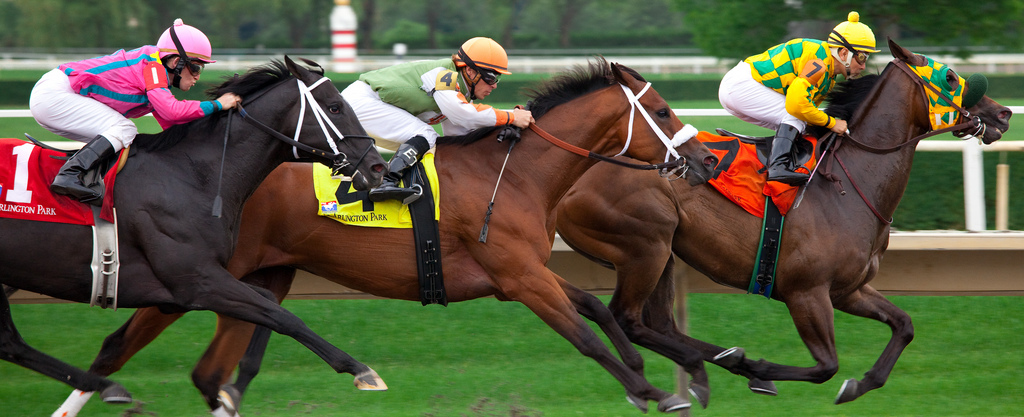 This Saturday Arlington Park will host the 36th running of the Arlington Million. As a born and raised Chicagoan, the Arlington Million holds a special place in my heart. Not only was it the first graded stakes race I ever saw live, it was the first $1 million purse in North America. The 2018 version of the Million will pit 11 contenders from the U.S. and abroad, all looking for the winner's share as well as the guaranteed spot in the Breeder's Cup Turf this November. They will compete for 1-1/4 miles around Arlington's turf course, with an awkward starting spot midway along the turn for home.
Get a $100 sign up bonus at twinspires.com
With a million dollars on the line in a grass race, it is no surprise that turf training aficionado Chad Brown has three entries: Almanaar, Money Multiplier, and Robert Bruce. They will be met at the gate by a worthy cast of characters including Euro-invaders Circus Couture, Century Dream, and Deauville.
Like many turf races, there are more than a few "one-run" horses who will be looking to bide their time until the stretch, hoping for a hot pace to run at. In this year's Million, we may just get that as 3/1 morning line favorite, Oscar Performance, will need to use his speed to cross over from post #11 before the first turn.
My wager will be based on the prediction that Oscar Performance will influence a hot pace and set us up for an off the pace winner. Oscar Performance has by far the best early speed figures and could get loose on the lead, but I am counting on at least one other contender to challenge early. This group of hopeful frontrunners includes Catcho En Die, Money Multiplier, and Deauville.
With a contested pace, the most distinguished closers are Money Multiplier, Spring Quality, Divisidero, and Almanaar. Money Multiplier looked under duress and ran almost greenly as the favorite in the G1 United Nations yet was still 2nd, while Spring Quality swept past a field of 13 to capture the G1 Manhattan. These were commendable efforts but Money Multiplier has done his best racing while fresh and looks on the down side of a form cycle. Spring Quality was able to settle early and had plenty left in the lane for his win.
The horse I landed on is 9/2 morning line Chad Brown trainee Robert Bruce. Coming out of the G1 Manhattan, where he finished a game 6th to winner Spring Quality, Robert Bruce's effort was better than it looks on paper. Breaking from the rail, he was boxed in from the jump, never had a clear path, and was always tightly between horses. In the lane I fully expected him to spit the bit after battling for the first 1-1/8th miles, but he split horses gamely and finished only a length back. I am actually pleased that when they finished sorting out the noses he was 6th. Another jump or two and he may have gotten 3rd and been on everyone's radar.
Get a $100 sign up bonus at twinspires.com
While I normally handicap based on analytics (my algorithm includes speed figures, Trakus data, track bias, etc.), this is a case where race watching had a huge influence. The bottom line is….Robert Bruce for the win.