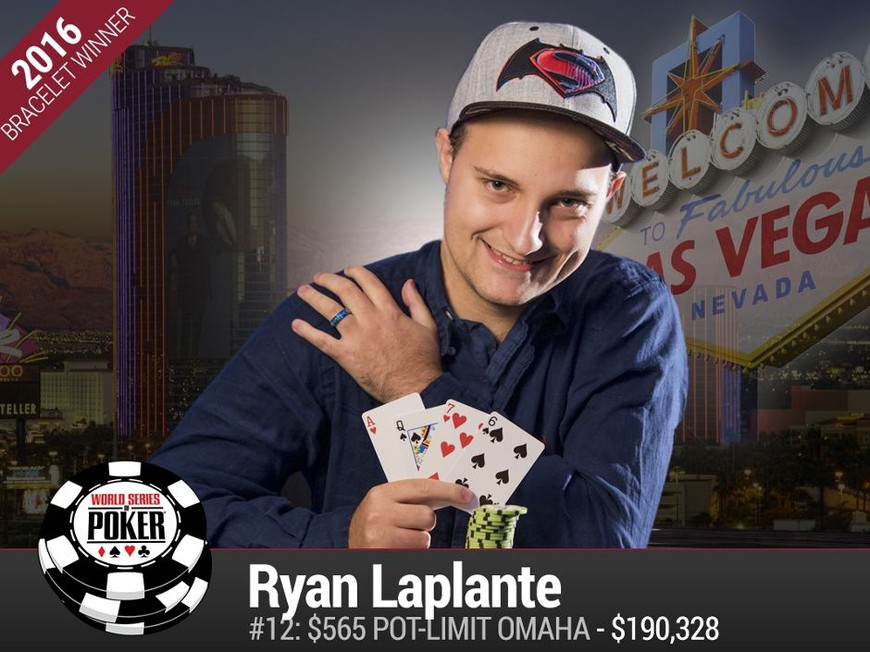 It was a big weekend of action over at the World Series of Poker with five events finishing up: Mike Cordell, Jean Gaspard, Ryan Laplante, Rep Porter and Paul Volpe all scored big cash prizes and WSOP gold bracelets.
Event #10: $1500 6-Handed No-Limit Hold'em
Mike Cordell of Little Rock Arkansas won Event #10 collecting $346,088 in prize money, making it the biggest win of his career and his first time collecting a WSOP gold bracelet.
Winning the event shortly after the death of his mother (sadly Cordell's mother passed away just one week before the WSOP started), Cordell dedicated his win to her.
"She was always proud of anything I ever did. I've been playing a long time. This has always been the dream. This is what we dream about when we start playing poker."
Cordell outlasted last year November Niner Pierre Neuville (Belgium), Robert Hankins (US), Lutz Klinkhammer (Austria), Javier Garcirreynaldos (Spain) and Timothy Cha (US) at the final table.
Cordell previously won a WSOP Circuit ring back in 2008 at Caesars Indiana—which was also a Six-Handed No-Limit event—and has spent much of his adult life in pool halls and underground card rooms.
Event #11: $10,000 Dealers Choice 6-Handed Championship
Jean Gaspard a 44 year old poker pro from Chicago and former basketball pro won Event #11 $10,000 buy-in Dealers Choice (Six-Handed) tournament, which played out over three days. He collected $306,621 and his first bracelet in the process.
Commenting on the fact that this was one of the most satisfying wins of his career, Gaspard said: "I came into this week with a lot of things on my mind.This was the first tournament I circled and said I was going to play. I told myself – I was going to play my best in this tournament. Then, earlier this week when Muhammad Ali died – he was one of the people I respect so much. I learned from him that to be great, you have to dig in deep and be yourself. So, coming into this, I was really ready to win it."
The tournament attracted 118 entrants, which created a prize pool totaling $1,109,200. The top 18 finishers collected prize money. Bill O'Neil came in second place winning $189,505.
The field size was up nearly 10 percent over last year's event.
Event #12: $565 Pot-Limit Omaha
Ryan Laplante won the biggest live Pot-Limit Omaha tournament in history over the weekend as he collected $190,328 in Event #12: $565 Pot-Limit Omaha. The action finished up over the weekend on the ESPN Main Stage with a throng of loyal supporters watching Laplante as the action unfolded.
This is the first gold bracelet for the 26 year old from Brainerd Minnesota.
Sean Shah finished as runner up.
"The World Series of Poker is the biggest thing in poker" Laplante told the WSOP after his win. "If you don't have a gold bracelet, to some degree some people don't consider you as good. They'll say, 'Oh he's so good, BUT he doesn't have the bracelet. To get something like this that I have been working so hard for, for such a long time, and going through sweats, is just incredible."
Event #13: $1500 Seven Card Razz
Rep Porter joins the exclusive three-gold-bracelet club as he collected the top prize of $142,624 in Event #13. Two of his gold bracelet wins have now come from winning the Seven Card Razz event.
The final table saw fierce competition with Daniel Negreanu finishing fourth and two-time gold bracelet winner Michael Gathy from Belgium finishing as runner up.
Porter commented after his win: "I feel perfectly content going home and disappearing when it's all over. I don't aspire to have fame. I play poker because it gives me lots of personal freedom. It gives me time to spend with my family. It gives me time to do the things I like to do outside of poker. I can work hard now at the series for the next seven weeks, and then I can take the next five weeks off after it's done….poker affords me a lot of opportunity to do the things I like to do in life and it's a pretty decent living. The game's been good to me."
Event #15: $1500 Eight Game Mix (6-Handed)
Philly poker pro, Paul Volpe, earned his second WSOP gold bracelet over the weekend as he took down Event #15—collecting $149,943 in prize money. Jason Stockfish finished as runner up.
"With me, poker is mostly about the money" said Volpe in his winners interview. "I know with the World Series of Poker there's so much history and I respect that. But I am here mainly to earn a living, make money, and support my family. For the most part, I love getting gold bracelets. But I'm here mainly to make a living."
Volpe won his first WSOP bracelet in the $10K No Limit 2-7 Draw Lowball Championship.
Today's Action
This year's $10,000 No-Limit 2-7 Draw Lowball Championship (Event #16) heads into the today with Jason Mercier firmly in the lead of the final nine players.
Likely having several bracelet bets lined up, the pressure is on for Mercier today.
Howard Lederer chose this event to return to WSOP action following his involvement in the collapse of Full Tilt following Black Friday.
Chris Ferguson made his return earlier in the series.