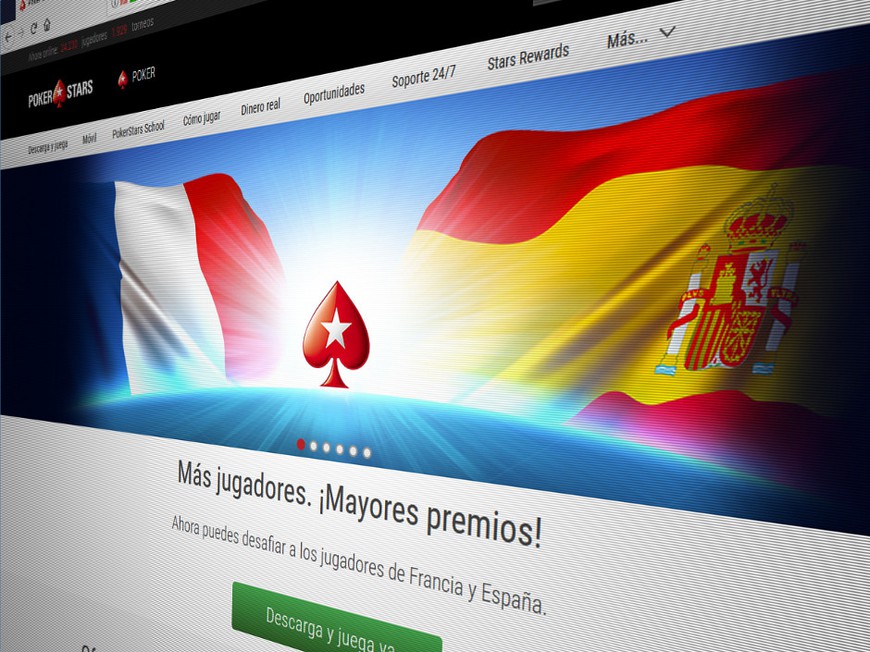 International registration is now open on PokerStars.ES, allowing players outside the country to play on the world's first shared player pool that connects the regulated markets of France and Spain.
As Poker Industry PRO reported exclusively last week, PokerStars opted to open up registration to non-Spanish players on its Spanish-licensed site for the very first time. It comes a year after it shut such foreign signups on its French-licensed site.
"We believe that the new shared liquidity will be large enough to accommodate foreign players without negatively impacting the ecosystem," wrote Benjamin Fougerouze, French Poker Room Operations Manager at PokerStars.
"We will monitor this on a regular basis," said Severin Rasset, Director of Poker Innovation and Operations at PokerStars, in an interview with pokerfuse following PRO's publication last week. If problems with the ecosystem or balance were detected, the operator would consider "reverting this position," we were told.
However, the reasons for allowing international signups were clear: "We want to boost liquidity, have great tournaments, and [build] a larger player pool," Rasset said.
"Attention PokerStars.com: watch your back!" writes Rasset in a "recent PokerStars blog post," where he discusses pricing challenges with creating the new Southern European network.
Connect Four
Due to regulation, players in countries that fall under local licensing with access to the dot-com player pool will not be permitted to enter the new Southern European player pool. This currently includes players from the UK, Denmark, Belgium, Bulgaria, Romania, and Estonia.
All other players in jurisdictions that fall under the international "dot-com" or "dot-eu" license can now sign up and play, though the process may not be straightforward. Currently, many consumers will be redirected to these sites when visiting the PokerStars.ES website.
Ultimately, this should change, pokerfuse was told; however, it is considered a low priority and the company is not planning to actively promote the new Franco-Spanish player pool directly to players outside the country.
"If you are motivated," you'll find a way, is currently the company's approach, according to Rasset. Interested players can contact support and ask how to download the Spanish client and sign up. Players on forums are already swapping tips on how to do so.
Today, in terms of cash game traffic, the new network is approximately the size of 888 and partypoker's international player pools. If and when Portugal and Italy join this network, it will be larger than all but PokerStars.com itself. International signups will only help build an even more competitive player pool.
The Introduction of "Seat Me"
In anticipation of the shared player pool, earlier this month we saw the Spanish "Seat Me" system—which prohibits table selection and automated seating scripts—rolled out by PokerStars in France.
"Almost one year ago we released Seat Me, a new feature to protect our cash game tables, on PokerStars.ES," Rasset stated at the time. "The goal was to protect the games by removing the option for players to pick their tables, and seats at the tables, and get them straight into the action."
"Now that shared liquidity is becoming a reality for France and Spain … it is a perfect time to expand this feature for the benefit of the French players, making sure that both countries will play under the same conditions," he added.
While the topic of seating scripts and "bumhunting" has been discussed throughout the industry for many years, and the Seat Me system itself has been live in Spain for at least a year, the topic has been one of fresh focus in the last two weeks. It started with a tweet from Daniel Negreanu showing opponents instantly sitting out when he left a game, and was following up by a Dear Daniel Negreanu video published by popular poker vlogger Joe Ingram, urging the PokerStars ambassador to "fix high stakes poker."
Negreanu responded in kind with his own vlog, covering both the high stakes cash game problem and Seat Me in particular. The discussion starts at 18:25.