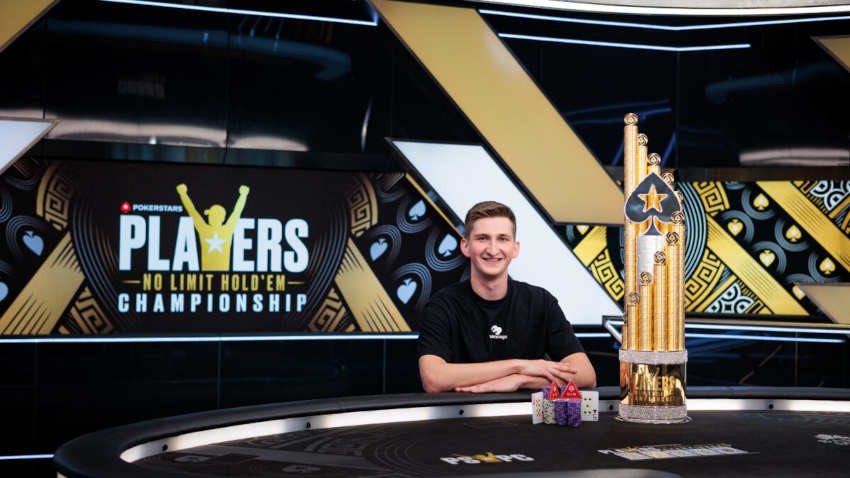 The second edition of the PokerStars Players No Limit Hold'em Championship (PSPC) is officially in the books, and we have the winner. His name is Aliaksandr Shylko, a young pro hailing from Belarus, who will be taking home $3,121,838 and one of the most prestigious trophies in poker.
It was Shylko's tournament to win, as cards fell his way in all the important spots, but everyone who made an appearance at yesterday's final table will have no complaints, as they all added seven figures to their running balances.
In fact, when the final table got down to three players, they decided to strike an ICM deal, which saw each of them lock up at least $2.5+ million for their efforts. This included Max Menzel, one of the two PokerStars Platinum Pass winners, to make an appearance today. Menzel went on to outlast Brazil's Philipe Pizzari, finishing his stellar run in second place and banking $2,859,990.
PSPC

2023 Final Table Results
| Position | Player | Payout |
| --- | --- | --- |
| 1. | Aliaksandr Shylko | $3,121,838 |
| 2. | Max Menzel | $2,859,990 |
| 3. | Philipe Pizzari | $2,524,871 |
| 4. | Nacho Barbero | $1,551,300 |
| 5. | Pedro Marques | $1,251,500 |
| 6. | Niclas Thumm | $1,001,200 |
Tournament Poker at Its Finest
There are no guarantees in tournament poker, and yesterday's PSPC final table reminded us of this fact once again. Jose "Nacho" Barbero was by far the most experienced player in the field, and he was coming in with the biggest stack, but it simply was not his day.
The Argentinian outlasted short-stacked Niclas Thumm, another Platinum Pass winner who turned this opportunity into a million-dollar payday. Portugal's Pedro Marques was sent to the rail next, pocketing over $1.2 million for his effort.

Last verified: November 2023
Special Signup Offer
100% deposit bonus up to $600!
Deposit $20 and get $30 worth of free play
One of the best mobile apps
Biggest

MTT

guarantees
By this time, Barbero's chip lead had evaporated, in part due to a blunder on his part, which not only cost him some chips but also put him on a bit of tilt. It all added together, resulting in his exit in fourth after the final unlucky hand. "Nacho" took home $1,551,300 for his performance, which is nothing to sneeze at, but as he pointed out later, there are not many opportunities to win $4,000,000, so he could not help but feel disappointed at how things turned out.
With Barbero leaving, there were only three players left and a huge amount of money to still play for. So, the remaining players agreed on an ICM deal to take the pressure off, locking up over $2.5 million each, with $300,000 left to play for.
Despite the deal, the play slowed down for a while. During this time, Shylko managed to significantly increase his stack, preparing for the heads-up stage. Eventually, it was Brazil's Philipe Pizzari who fell in third, leaving it to Aliaksandr Shylko and Max Menzel to bring the tournament to its natural finish.
An Unexpectedly Swift Finish
Menzel took the last of Pizzari's chips, so, in theory, it could have been a long heads-up battle. But the poker gods had other plans, as the very first hand came a massive cooler, with Menzel rivering a straight against Shylko's turned full house. Not surprisingly, all the chips found their way into the middle, and when the dust settled, the last pot of the evening and the tournament was headed Shylko's way.
There was not much Menzel could do in that hand, but he does not have much to be disappointed about, as he turned his Platinum Pass into a payday of almost $2.9 million, not that much less than Aliaksandr Shylko, whose victory was good for $3.1 million and some change.
All in all, it was another spectacular showing at the PokerStars Players No Limit Hold'em Championship, which took place at Baha Mar Resort this year. Many Platinum Pass winners made the money, two of them made the final table, and Max Menzel came just short of taking home the trophy.