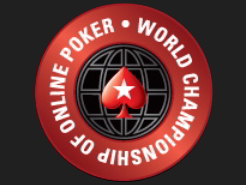 The PokerStars WCOOP Main Event created not one, but three millionaires—and all of them were German.
Of over $10.6m in prize money, just over $4m was won by the top three finishers. The total field size was 2,133 for the $5,200 buyin event.
"PlayinWasted" took the bracelet together with almost $1.5m in winnings. The 22 year old, who was playing $0.10/$0.25 cash games only two years ago had cashed in PokerStars tournaments only eight times since June.
His heads up opponent, Daniel "Allanon85" Drescher, had some experience playing a big money final table. In 2008 he won the PokerStars Sunday Million for $177k. That time he conceded some winnings to get a deal done, but last night, he was in no mood to deal.
Third place finisher "SwissCantMis" was the shortstack three handed, and was looking for a deal as soon as 4th place "1M.BanKroll" had been dispatched. There was a collective refusal to accede to anyone's request for a bigger share of the prize pool, and the pressure was on "SwissCantMis" to take the chop or leave it.
After taking a few moments to think it over, the deal was done. SwissCantMis made over a quarter of a million dollars more than original third place money by accepting the chop.
The three way deal left $160k to play for, and it took a full four hours before "PlayinWasted" finally won. Over 26 hours of Main Event, and three weeks of tournaments ended in some style.
Notable Hands
The only PokerStars Team Pro to make the final table was Shane "shaniac" Schleger, now playing as a US refugee in Mexico. His stack stayed the same for most of the time, rarely able to gather any momentum:
That sent him home in 6th place with a respectable $291k. Being the gentleman that he is, he did give a shout out to Ben "randomcrayon" Barrows, whose aces Shane cracked with T-T—"Poker is really super crazy. If I don't shank @randomcrayon yesterday with TT over AA, there is no story here."
Next out was "alexandrapau" who suffered a horrible beat. All of his chips went in pre-flop against Allanon85, and both players turned over A-A. Allanon85's diamond ace gave him the pot and put alexandrapau out of the running when a fourth diamond fell on the river.