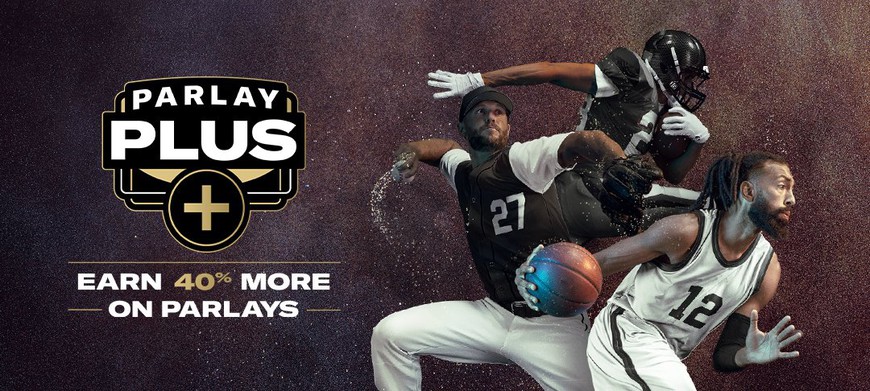 One of the biggest sports betting sites in the US, BetMGM Sportsbook, is offering its players a chance to win even more with their parlay bets.
Parlay+ is a recurring promotional offer that allows players to win up to 40% more with parlay bets once a day.
This offer is open to all BetMGM Sportsbook account holders. Everyone who opts into Parlay+ and makes an appropriate parlay bet is eligible for the boosted odds.
The Parlay+ promo is one of the best value promos around and you can take advantage of this deal every single day. Players who enjoy parlay bets should seriously consider placing their bets with BetMGM because of this offer.
Keep reading to find out how Parlay+ works and what you stand to gain by making your parlay bets with BetMGM Sportsbook.

Special Signup Offer
Risk-free first wager up to $1000!*
Enjoy live streaming of popular events
Great mobile betting experience
Variety of betting markets on offer
*except PA & NY
How BetMGM Sportsbook's Parlay+ Works
Parlay+ is a daily recurring promo available to all BetMGM Sportsbook players. To participate in Parlay+, you must opt-in for the promo every day before making your qualifying bet.
Once you are logged in to your account and opted in for Parlay+, the boosted odds will apply to the first parlay bet you make on the sportsbook.
To qualify, your parlay bet must contain at least four legs. Adding up to seven legs will get you additional boosts, with a gain of up to 40% available. The maximum stake of your parlay that works with Parlay+ is set at $1,000.
The following boosts will be applied to your parlay bets:
4-legged parlay: 15% profit boost
5-legged parlay: 20% profit boost
6-legged parlay: 30% profit boost
7-legged parlay: 40% profit boost
Here is how Parlay+ works in a practical example:
1. You opt-in for the promo
2. You place a 7-legged parlay for $200 with odds of +500
3. Your parlay wins
4. You are paid your $200 stake back + your original $1,000 win
5. You are paid an additional 40% ($400) in profit boost
All profit boosts are paid as free bets, which means you will not be able to cash them out but instead use them to make further fixed odds bets.
Yet, these boosts are very significant compared to your regular winnings and can add up quite handsomely over the long run, making Parlay+ a no-brainer promo to take advantage of if you enjoy making parlay bets on the regular.

Special Signup Offer
Risk-free first wager up to $1000!*
Enjoy live streaming of popular events
Great mobile betting experience
Variety of betting markets on offer
*except PA & NY
Use BetMGM Easy Parlay for Quick Parlay Betting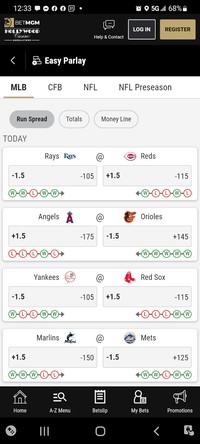 If you are going to be using the Parlay+ promo regularly, BetMGM Sportsbook offers another helpful feature that you can use to make the process even quicker for you.
The Easy Parlay feature allows bettors to set up their parlay bets quickly and effectively. The tool gives you access to all the most popular betting markets on a single page, where you can quickly add them to your parlay and set it all up in just seconds.
If you are sick and tired of listing endless pages of betting markets and switching through different sports and competitions to find the markets you want to bet on, the Easy Parlay feature will make this process much less painful.
Major sports like the NFL and MLB are easily accessed through the Easy Parlay screen, and main markets like moneyline, spread, and totals betting will be laid out for you in the most convenient way possible.
Along with Parlay+, this feature makes BetMGM Sportsbook one of the best options for parlay bettors throughout the US, as you get the easiest access and the best odds, all while using one of the most convenient betting platforms in the world.
Not signed up yet? Click here to take advantage of BetMGM's welcome bonus worth up to $1000 or head to our comprehensive BetMGM Sportsbook Review to learn more »