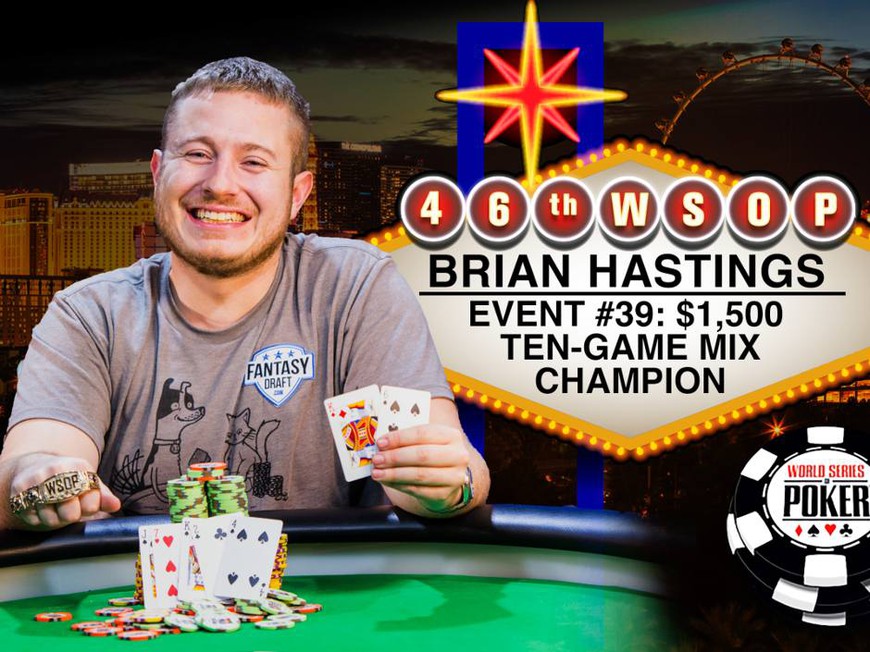 Event #34: $1,500 Split Format Hold'em
The bracelet and over $250,000 in first prize money went to 72 year old Andre Boyer, from Montreal. It came ten years after his first bracelet victory in 2005 when he was a youngster of 62.
"I really think being older can be an advantage," Boyer said. "They look at me and think I'm a tourist. That's okay with me. I try to turn that to my advantage."
He beat Frenchman Erwann Pecheaux heads up at the final table. This was Pechaux's second WSOP final table—he finished 5th in the 2013 WSOP Europe €2,200 NLHE event.
The Split Format event is in its second year, and comprises a mixture of full ring and heads up play. "This format is totally different," said Boyer. "You need skill to win. You can't just win a big pot on Day Two and coast to the final table. You are constantly tested."
Event #35: $3,000 H.O.R.S.E.
The $3,000 H.O.R.S.E.final table included poker luminaries such as John Racener, Taylor Paur and Randy Ohel, so it was no mean feat to come out ahead, but Dan Idema managed it, and in the process won his third WSOP bracelet.
The Canadian player defeated amateur Matthew Vengrin when the play got to heads up to take the winner's prize of $261,774.
"It was amazing, every time I looked down in the last stages, I had a good hand," Idema said. "My rush came at just the right time. I got hit by the deck against a very strong opponent."
Event #36: $1,500 Pot-Limit Omaha
Kevin "BeL0WaB0Ve" Saul may have been the online poker railbird's favorite after play got down to the final two, but it was live tournament grinder Corrie Wunstel who ended up with the gold glittering on his wrist.
The event began with 978 players, and a fair sprinkling of amateurs made it to the final table. Peter Levine, a marketing executive from California finished in fourth place, Markus Cara a financial analyst from Toronto finished in sixth place and Ke Chao Ni made the final table at his first ever WSOP appearance.
Wunstel began the heads up phase as the 2 to 1 chip leader, but at one point Saul managed to get the lead back, before a disastrous hand which saw his straight beaten by a rivered full house. Wunstel takes home $267,435 to go with his first WSOP bracelet. Saul won $165,147, but his first bracelet eluded him.
Event #37: $10,000 No-Limit Hold'em 6-Handed Championship
29 year old Byron Kaverman has made millions playing online poker and over $4 million in live tournaments, but until now he has not achieved the recognition conveyed by a WSOP bracelet. In winning the $10,000 No-Limit Hold'em 6-Handed Championship, he has achieved the coveted bracelet in one of the toughest events in all of poker.
At the final table were three former bracelet winners, Sam Greenwood, Doug Polk, and Paul Volpe.
"It was absolutely thrilling to win. This is one I was really motivated for," Kaverman said after his victory. "It definitely has one of the toughest lineups there is….I would rank this final table as definitely the toughest."
Doug Polk outlasted the rest of the final table to join Kaverman in the heads up battle. He picked up his first bracelet last year in the $1,000 Turbo No-Limit Hold'em event.
Paul Volpe has come close to a bracelet this year, but has not quite managed to break the winner's tape. He has been 2nd twice and sixth once during this WSOP, and is well poised to win the Player of the Year award if his performance continues.
Kaverman pocketed $657,351 as well as the bracelet, and Polk takes home second place prize money of $406,261.
Event #38: $3,000 No-Limit Hold'em
Thiago Nishijima from Brazil won $546,843, for taking down the $3,000 No-Limit Hold'em event.
"This is the happiest day of my life, no doubt," said Nishijima, the third bracelet wiiner in WSOP history to come from Brazil.
"I have to thank all of the Brazilians….having them all here makes a big difference. With my confidence, with wanting to play good, and not wanting to let them down. I know they helped me to win today."
The event extended to a fourth day, and ended up with a final table where players came from six different nations. Greek Sotirios Koutoupas finished in second place, and the $338,414 that he takes home should be welcome in the troubled EU member state.
The 2011 WSOP Main Event runner up Jesse Sylvia finished in third place, still trying to win a bracelet despite having racked up over $6 million in prize money.
Event #39: $1,500 Ten-Game Mix
The prospect of playing ten different poker variants in a single event did not deter the greatest names in poker from entering this event which attracted a field of 380 players.
When it finally concluded, Brian Hastings had won all of the chips and his second bracelet of this year's WSOP. Phil Hellmuth finished in 17th place to record his 111th WSOP cash, more than any other player in WSOP history.
Rostislav Tsodikov was the runner up with Todd Brunson in third.
"I really pride myself on being able to play all of these games well," Hastings said. "I hope this carries over into the $50K (Poker Players Championship)."
Hastings took the first prize of $133,403 and put his name on the map for this year's WSOP Player of the Year competition.
Event #41: $10,000 Seven Card Stud Hi-Lo 8 or Better Championship
44 year old Max Pescatori made it bracelet number four, and the second in 2015, as he romped home to win the $10,000 Seven Card Stud Hi-Lo 8 or Better Championship for $292,158. Pescatori also won Event #9 $1,500 Razz earlier this Series.
The "Italian Pirate" won his first bracelet in 2006, two years after Daniel Negreanu first won the WSOP Player of the Year competition. Negreanu has six bracelets already and was clearly gunning for number seven, but he had to accept that this event was not going to be the one for him, as he busted out in third.
"I believed I could do it, because Stud is my best game," Pescatori said afterwards. "I always thought Stud was the game where I could go deep. I even spent a lot of time beforehand studying and thinking more about the game."
The runner up was British player Stephen Chidwick whose $180,529 in prize money took him within sight of $1.5 million in total WSOP winnings.