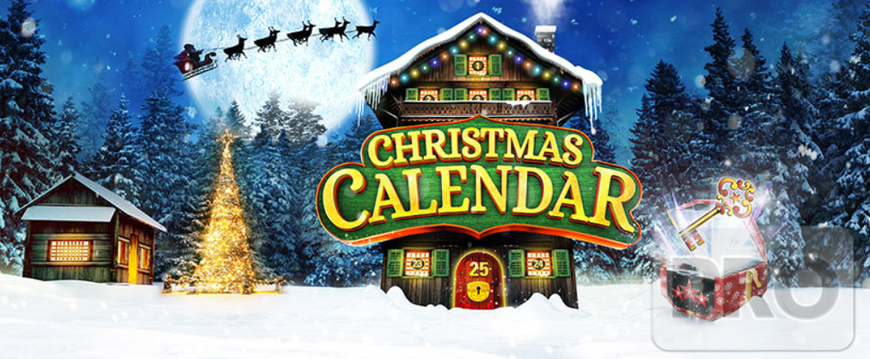 Just a few days ago, our sister site F5 Poker spotted new image assets inside the PokerStars program hinting that the operator could be gearing up for the festive period with special Christmas-themed Chests.
Pokerfuse can now reveal that PokerStars this year will be celebrating Christmas by giving away a total of $2.5 million in prizes via its Stars Rewards loyalty program.
The promotion, which is yet to be officially announced by PokerStars, will be running across the dot-com international site as well as operator's major segregated markets including the European segregated markets (France, Portugal, and Spain) and Italy, pokerfuse can reveal. In New Jersey, where PokerStars recently debuted Stars Rewards, the operator is instead giving away $250,000 to celebrate its launch.
Christmas Calendar Chests
From December 1 to December 24, each day, players—upon completing their rewards progress bar—will not only be awarded the standard Stars Rewards Chest but also an additional prize called "Christmas Calendar Chest." Each of these special chests will contain instant prizes (cash prizes, spin & go tickets, free bets, spins tickets, etc) or a special "Christmas Key." Players will be able to earn only one Christmas Chest per day.
The value of the Instant Rewards will depend on the tier of the Chest. Once players collect three Keys, they will receive a further cash prize where players may win up to a maximum prize of $50,000 or €50,000. The higher the value of chests, the bigger the prizes. Red chests will contain a minimum cash prize of $4 while Platinum Chests (the top tier) will have a minimum prize of $200. However, each of the chests will have $50,000 as their maximum cash prize with each of them having the same odds of 0.0001% (one in a million).
| Probability | Red Chest | Blue Chest | Bronze Chest | Silver Chest | Gold Chest | Platinum Chest |
| --- | --- | --- | --- | --- | --- | --- |
| 20% | $4 | $10 | $17.75 | $19.75 | $50 | $200 |
| 20% | $4.25 | $11.50 | $18.50 | $22.50 | $60 | $250 |
| 20% | $5 | $12.50 | $20 | $25 | $75 | $274.50 |
| 20% | $5.50 | $13.25 | $21 | $27.50 | $90 | $300 |
| 19.9999% | $6 | $15 | $22.50 | $30 | $100 | $225.25 |
| 0.0001% | $50,000 | $50,000 | $50,000 | $50,000 | $50,000 | $50,000 |
These cash prizes will be revealed on Christmas Day.
Last year, the operator awarded $2 million across a variety of giveaways and daily challenges including Card Hunt, CardMatch, Jacks or Better, Golden Sit & Go's, Happy Hours, 180 men Sit & Go challenge, etc. Each day a new promotion was revealed, so players had to log in each day to reveal the giveaway, promotion or challenge.
However, this year, the operator has changed its strategy. Instead of running new promotions or challenges every day which were limited to a particular game type, players will now be able to win daily prizes by playing across any game available, including placing bets on PokerStars Casino and the sports book, BetStars.
A similar type of promotion was also run this year during the FIFA World Cup, where more than $2 million was paid out through its "Football Frenzy" promotion. The operator earlier this year stated that chests valued at a total of $1.65 million were opened on a single day on June 12. Over the entire promotion, players shared a prize of over $2 million on top of the prizes earned in regular chests.
Winter Series to Return?
There is also a possibility of PokerStars running another tournament series by the end of this year. As we have seen over the past few years, PokerStars has always accompanied the Christmas festivals with a tournament series. In 2015, prior to Christmas, the operator ran "Daily Double Jackpot" series with $4.5 million in guaranteed prize pools featuring 84 tournaments. In the following year, it ran MicroMillions Marathon series with 21 low buy-in tournaments in a single day.
In 2017, PokerStars debuted Winter Series boasting a massive $25 million across more than 150 tournaments. It turned out to be a massive success as it paid out close to $40 million despite the series being announced last minute.
So if history is of any indication, PokerStars could soon announce another tournament series. If we were to guess, the return of Winter Series once the Christmas Calendar promotion ends seems most likely.
PokerStars is expected to officially announce Christmas Calendar in the next couple of days, with the promotion getting underway on December 1.