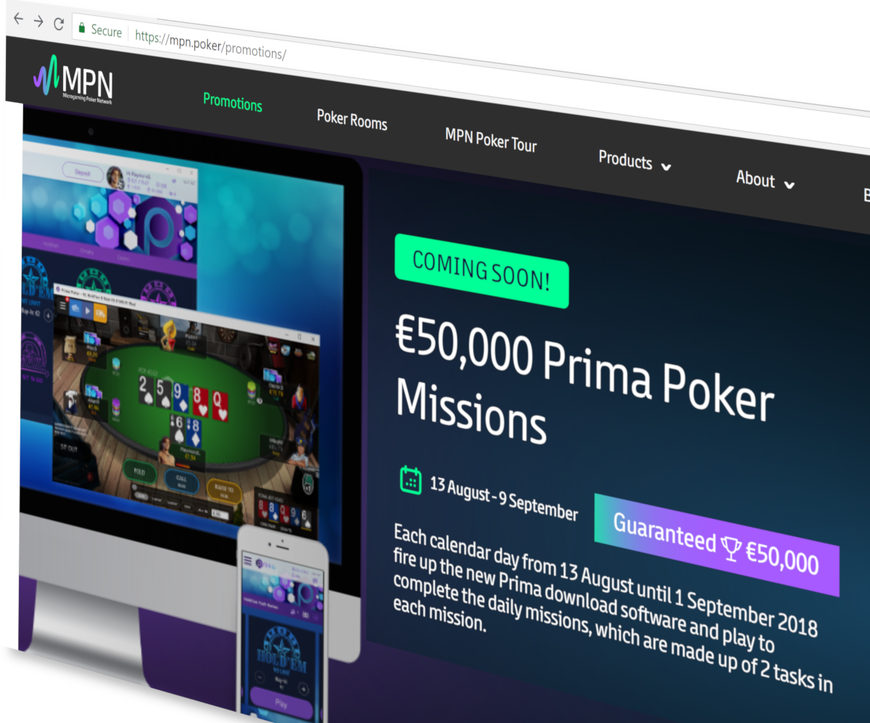 MPN (Microgaming Poker Network) last month rolled out a brand-new poker client called "Prima" which is the operator's biggest software overhaul in its history. Existing players using the old client can upgrade to Prima or stay on the old client for the time being.
Prima Poker Missions
As part of the celebration of the launch of Prima, the operator will be giving away a total of €50,000 in freerolls through a special promotion called €50,000 Prima Poker Missions. However, the promotion will be open only to those players who are using the new client, as the operator wants its players to try out its new software.
Starting August 13, each day players will have to complete two simple tasks to be eligible for the daily €1000 freeroll which will take place the following day of the daily missions. Tasks range from playing a few cash game hands to playing an MTT or a Sit and Go.
Try Out The New
MPN
Software on RedKings Today!

Sign Up Today »
Enjoy the New Prima Software Features
Qualify for Exclusive €50,000 Prima Poker Missions promotion
Complete Just 1 Mission to qualify for €30,000 Prima Poker Mission Final on Sep. 9
The promotion will culminate with a €30,000 Prima Poker Mission Final on September 9. Players can participate in this final freeroll by completing at least one mission during the twenty-day promotional period. Players who complete more than one mission will have their starting stack boosted to up to 30,000 chips.
New Player Freerolls
Additionally, the operator is also running €10,000 New Player Freerolls for players who open a new account. Every new account is credited 28 tickets which can be used to play Level 1 tournaments with a guaranteed prize pool of €50. Players who play at least ten hands (excluding the freerolls and play-money games) will be awarded eight tickets to Level 2 freerolls worth €500. For the next level, players have to play at least ten cash games hands with stakes of €0.05/0.10 or higher, play an MTT with a buy-in €1 or higher, and play a Fish Party Sit N Go Tournament. On completing these tasks, players receive four tickets to Level 4 tournaments worth €1000.
€1 Million Tournament Series –
UCOP
The operator has also announced its flagship online tournament series, the Universal Championship of Poker (UCOP) which will kick off on September 9. The operator has doubled the tournament series guarantees from €500,000 last May to €1 million across 88 events, making it the biggest tournament series of MPN in the recent period. Furthermore, €15,000 will be given away in Leaderboard prizes at the end of the series.
The 15-day series will conclude with a €110 buy-in main event which boasts a guarantee of €100,000. The operator will be giving away three tickets to the main event via a freeroll. Moreover, players who play at least ten UCOP satellites with a buy-in of €11 or more will receive a free ticket to the main event.
New Innovative Features
Prima is the operator's biggest ever redesign of its online poker client. The new client includes several new innovative features such as a hand history replayer injected with a GIF export feature, Ultra HD tables which are resizable to any size possible, and a feedback mechanism for players to send their feedback directly to the MPN team.
Prima also allows players to track their gameplay activity and financial histories such as a player's win and loss rate across any game—information that most online operators shy away from presenting up front.
However, not every feature that is in MPN's legacy desktop client has been implemented. Those features omitted include the ability to take notes, tournament lobbies, and several other game filters and settings.
The ability for players to communicate with each other via chat has also been left out of the initial release of Prima, but that will likely change. "The chat feature will likely be restored in the future, but not in the next few months," Head of Product (Network Games) at Microgaming Alex Scott told pokerfuse.
Scott also indicated that his team is looking at improvements to the chat functionality including potentially adding pre-set chat messages to the mobile client.
Where to Play on Prima
The new client is now available for download from all the online poker operators on the MPN platform. Even those poker rooms serving India on a country segregated platform provided by MPN have the option of trying out the new Prima software.
Get the best bonuses on MPN at RedKings
The operator has not completely replaced the old client with Prima, instead, both the new and legacy clients are being offered in tandem.