Introducing the New PRO: The Homepage to the Online Poker Industry Has Evolved
New Promotion and Event Tracker, extensive industry data from company financial reporting and regulated markets, an overhauled Directory, and new Cash Game Trends are just some of the new features available to all our customers from today.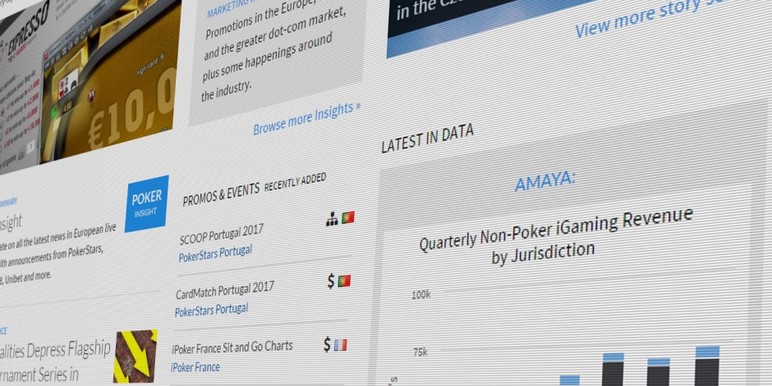 Today we are excited to unveil a major upgrade to Poker Industry PRO, now live and available for all our customers.
The driving goal of PRO since we launched nearly four years ago has always been to be the true gateway to understanding the online poker industry—to provide insight and perspective through news and analysis, coupled with industry data from a broad spectrum of sources to give journalists, regulators, analysts and industry insiders the insight into a complex and unique industry.
With the update we're announcing today, we have taken a major stride forward in this goal. Existing features have seen significant improvements, including additions to our cash game data reporting and a significant expansion to the Directory. We have also added major new platform features and expanded our Data platform with new content from a myriad of sources, including metrics and key indicators in regulated markets and company financial reporting.
Tracker
The new Tracker feature is a true industry first—a searchable database of every major online poker promotion and event in the industry.
We began tracking in November 2016 and already maintain a list of approximately 200 tracked events. The list is updated twice a week and covers promotions and online tournament series in every market across all major online poker operators and networks.
Being able to browse, search and visualize events across the online poker industry has been a top requested feature from many of our customers. Journalists and affiliates need to know what's going on so they can create great content and understand the context of events. Those who work directly in the online poker industry can better plan schedules and develop an understanding of the competition. We are very excited to be launching Tracker today to address those needs.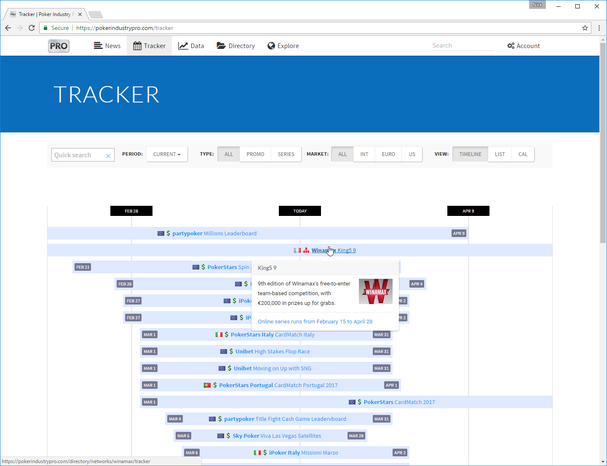 Company Financials and Regulated Markets
PRO Data has been completely overhauled. Cash Game traffic is now just one source of information on the platform—it sits alongside data points from publicly traded companies, regulated markets, online poker networks and more. Never before has there been such a deep and robust platform for understanding the online poker industry.
We now track data from all major online gambling companies involved in the online poker industry—from Amaya to Zynga, tabulating and graphing publicly available data released in quarterly and full year financial results. We also track market data from the world's regulated online gaming markets—from Norway to New Jersey, from Denmark to Delaware.
Currently, our platform consists of almost 350 charts from over 150 datasets—and we are growing it every week. We believe it to be the most comprehensive database of its kind.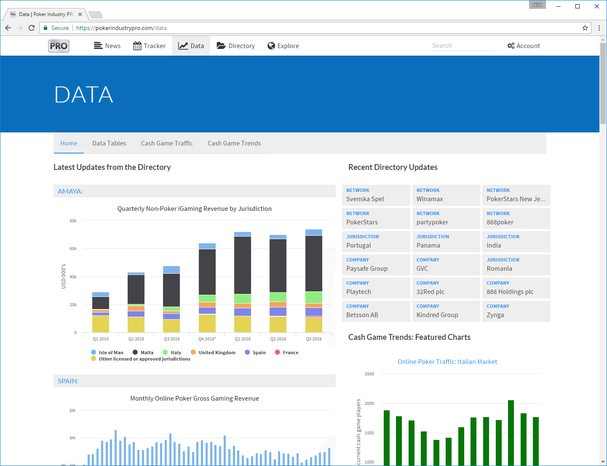 Cash Game Trends
Cash Game traffic provided by PokerScout is still a core part of our Data platform. While online tournaments have grown to become a significant share of online poker revenue, cash game traffic is still unique in its ability to provide important industry comparatives to understand the relative trends between markets and operators.
For that reason, we have added a new cash game traffic view that makes it even easier to draw these insights—Cash Game Trends. Instead of charting a seven-day moving average each day, Trends averages the single day figures across larger time periods—by week, month, quarter or year—to give a clear impression of performance over time.
Like Cash Game traffic, multiple operators and markets can be combined into a single graph. The Relative view shows relative change over time to better compare performance between networks.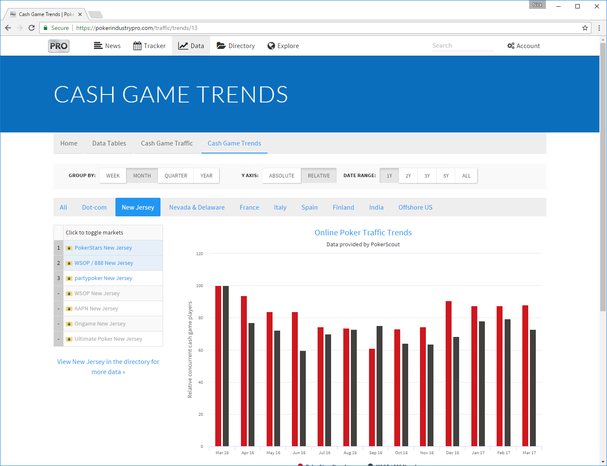 Directory
The PRO directory has seen significant improvements in both depth and breadth.
Approximately 800 items are now indexed, with a fully searchable list of almost 500 poker rooms, and more than 300 companies, networks, and jurisdictions.
Thanks to the addition of Tracker and overhaul of Data, many Directory listings now provide an abundance of contextual data: Whether it's a history of promotions on GVC-owned poker rooms, market data from Sweden or financial data from Amaya, you will find this information only a click away when exploring the Directory.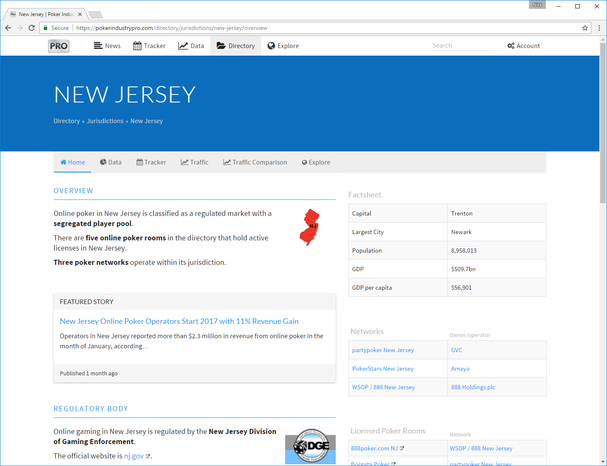 News and Analysis
Of course, our daily articles, executive summaries, and in-depth features are still front and center, providing important news, necessary analysis and the context critical to understanding industry trends.
New features—like a fresh focus on Developing Stories on the homepage, improved listing of our Executive Summaries and Features, and featured stories from within the directory—help our customers better navigate our large body of content and find the information they need.
The overhaul of our Data platform will naturally feed into our reporting, giving us a quick way of providing important context for our stories. Readers may have already spied usage of new charting in our content; these were taken directly from the new PRO Data platform, and this will only expand now that the platform is live for all customers. Expect to see interactive tables and charts in forthcoming stories—with a direct link through to the directory to explore the dataset even further.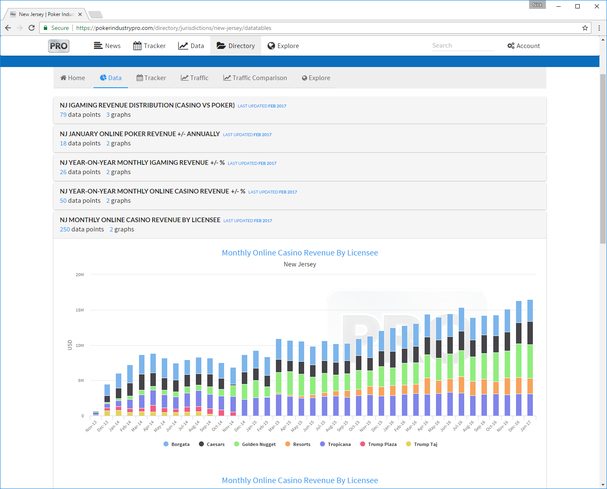 We came to an important realization when developing the new platform: There is no clear distinction between the news that we write, and the data behind it. Maintaining two tiers prevents us from building the platform our customers need—one that seamlessly combines the information available in Tracker, Data and Directory, and the news that adds the context.
For that reason, moving forward we have decided to end the distinction between our News and Data tiers—all subscriptions will include access to the entire PRO Data platform.
To all our existing customers, we hope you enjoy complete access to the entire platform. If you're interested in starting your PRO subscription for your organization, contact us today to discuss subscription options..