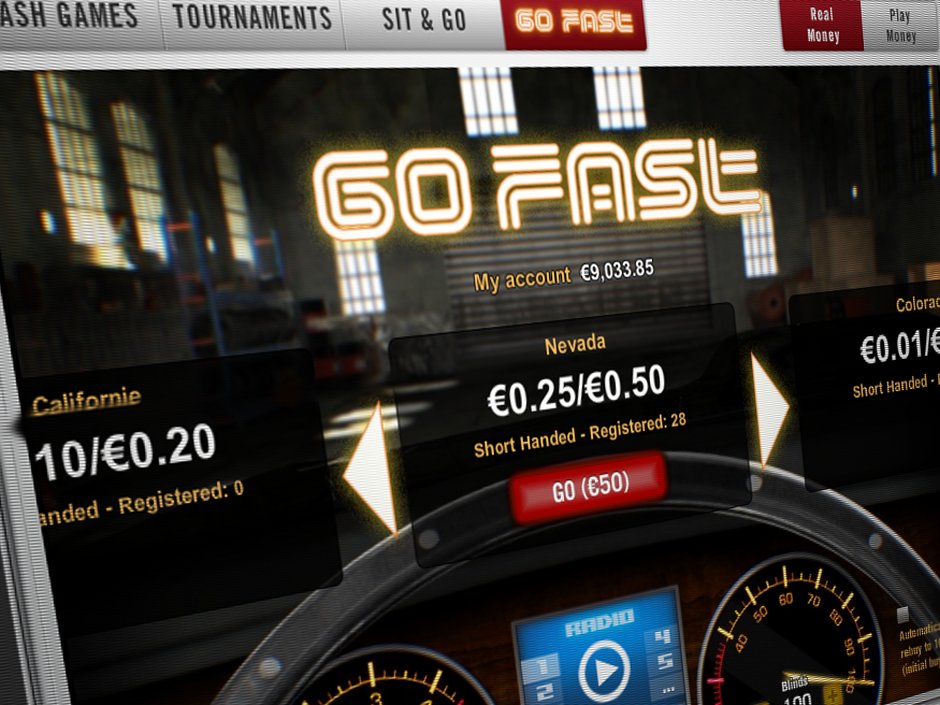 Winamax, the leader in the French regulated online poker market, finally joined the fast-fold poker game with the launch of Go Fast on Monday.
The new format, available on Windows, Mac, Linux, iPhone and iPad platforms, follows the same familiar structure as other fast-fold games: A player is randomly seated in a pool of players, and an "instafold" button takes a player immediately to a new table.
Where Winamax innovated was in the design—the online poker room uses a racecar motif throughout to highlight the speed of the new format.
Players select a different car to indicate the buy-in level (from NL2 to NL50); race animations play during table transitions, and there are even radio stations to accompany the play.
False Start
Unfortunately, various critical bugs forced Winamax to remove the game soon after launch.
Players in French online poker forums reported problems closing tables, issues with money not returning to accounts after quitting, and freezes while multitabling.
"Regarding the various slowdowns and freezes, we alerted our technical department and they are currently working to resolve these issues," a rep informed the clubpoker.net community.
"We have decided to suspend Go Fast. Sorry for this … we hope to bring it back online very quickly," he added soon after.
Fast-fold poker is now ubiqitous in online poker, and accounts for as much as one in four cash game hands played online.
Prior to the Go Fast launch, Winamax and Adjarabet were the only online poker rooms in the top ten worldwide not to offer the format; In France, Winamax was the only major poker room not to spread it.